OFFICE CLEANING - NEW JERSEY, PENNSYLVANIA, DELAWARE
Universal Cleaning proudly serves New Jersey, Pennsylvania, and Delaware with professional commercial office cleaning. Contact us today for professional office cleaning services!
OFFICE CLEANING
Top Rated Local® Cleaning
Professional Office Cleaning Services
Your office is where you spend the majority of your day. Not only should you love what you do, but you should enjoy the environment in which you do it. Quality janitorial cleaning services ensure your office is always clean and well maintained. For daily, weekly, or monthly services at affordable rates, Universal Cleaning offers the detail-oriented cleaning you prefer.
For more than two decades, the professionals at Universal Cleaning have provided businesses in the tri-state area with exceptional commercial office cleaning services. From Central and South New Jersey to Philadelphia, Pennsylvania, and Delaware, our company is large enough to serve you but small enough to care. We are committed to excellence in everything we do, and we're proud to specialize in all of your cleaning needs.
To learn more about the commercial office cleaning services we can offer your business, contact us today. You'll be greeted by a friendly customer service representative, and we'll answer any specific questions you may have. We look forward to hearing from you.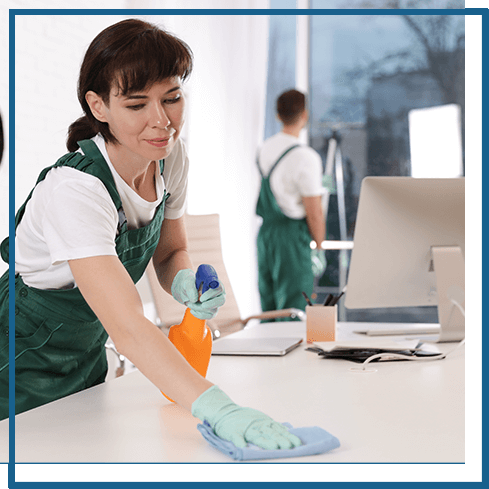 COMMERCIAL OFFICE CLEANING
You and your employees spend a great deal of time in the office, and in some cases, one of the first impressions of your business can be your office space. A clean office space could mean the difference between a good first impression and a great one!
Give yourself, your employees, and your clients and customers the benefits of a fresh, clean office environment with professional office cleaning services.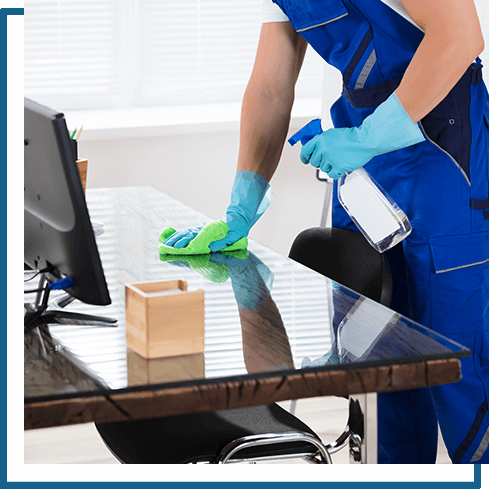 BENEFITS
If you're not sure whether professional office cleaning services are right for your business, consider some of the following benefits:
Increased Employee Productivity:

A clean office helps increase employee productivity by allowing them to focus more on their actual jobs. While some employees may prefer to clean their workspace more often, common areas such as breakrooms, bathrooms, and waiting areas will not be their responsibility. Plus, people tend to be more productive in neat, clean environments.

Safer and Healthier Work Environment:

Help keep employees, clients, customers, and visitors safe and healthy with regularly scheduled office cleaning. This will also help reduce the spread of germs, meaning less chance of employees getting sick and having to take time off.

Positive, Professional Appearance:

Like we've mentioned before, a clean office equals a positive first impression. You want people to take your business seriously, and to view you and your staff as professionals. One of the easiest ways to leave a positive and professional impression is to have a clean and tidy office area.

Save Money:

Dedicate your business' money to your business, and don't waste money stocking up on tons of cleaning supplies. Sure, it doesn't hurt to have some on hand, but having professional office cleaning done means we bring our own cleaning supplies with us.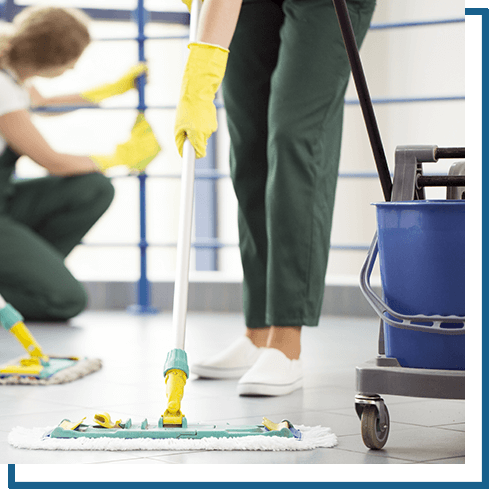 THE UNIVERSAL CLEANING DIFFERENCE
Not all office cleaning companies are created equal. Perhaps you've had issues with so-called "professional" commercial office cleaners in the past. At Universal Cleaning, we're committed to doing things differently.
Founder and president, Marc Pelcak, has a high standard for quality workmanship, and his mission is to offer business owners first-class cleaning services that other companies in the industry simply don't provide. As a family-owned and operated business, we are proud members of our community and we don't take our job of serving the community lightly.
For the most professional commercial cleaning services in Philadelphia, the surrounding Pennsylvania area, New Jersey, and Delaware, reach out to the team at Universal Cleaning. Treat you and your employees with a clean and tidy work environment, or provide clients and customers with an excellent first impression of your office space. Give us a call or fill out the form below to schedule a free consultation!